In January it's so nice,
While slipping on the sliding ice,
To sip hot chicken soup with rice.
Sipping once, sipping twice,
Sipping chicken soup with rice.
— Maurice Sendak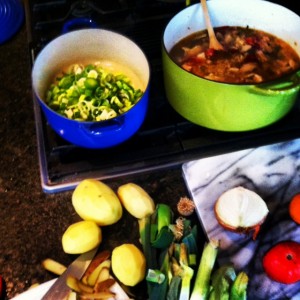 Even when the weather is balmy, I tend to make a lot of soup. It's the easiest way I know to use up wilting produce and turn disparate items (some sausage, a chicken breast, leftover cooked grains) into a harmonious and satisfying meal. Since the highest temperature we've reached around here since last Saturday was about 14, you can bet I've been at the stove happily stirring soup.
I started making soup regularly a few years ago when my son declared he didn't like sandwiches and wanted to bring soup to school for lunch. If you've been reading this blog for a while, you know I am can-averse (trying to avoid BPA) and also I don't like processed foods with a lot of unpronounceable ingredients (which canned and pre-made soup tends to have). So I started making soup, first basic chicken noodle (and eventually graduated to this, which isn't basic at all), then Italian wedding and posole, and have since become a full-on Stone Soup lady — meaning I am constantly making soup out of anything and everything.
I enjoy making big pots of soup for lots of reasons, including:
Soup is pretty hard to mess up.
It makes my house smell delicious and homey.
It's warm and comforting.
My kids will eat it.
My husband gushes about it, and he doesn't gush about much.
I can stir it while I do other things like talk on the phone and help with homework.
Soup can be used for great make-ahead weekday dinners and lunches.
Homemade soup is healthier than canned or boxed versions.
You can bring it to the neighbors, and they will love it.
It's satisfying and filling.
It keeps pretty well.
Did I mention it's warm?
Over the weekend, I made a large batch of potage parmentier (a fancy name for potato-leek soup, which you can also serve cold as vichyssoise) and some Southwestern Chicken Soup for next week's REAL LIFE Meal Plan (you can subscribe here!); I also dug an elk round steak out of our garage freezer and added it to my favorite barley soup recipe (my version used homemade beef stock, added 1/2 pint of mushrooms, and left out the oxtails). All of them were delicious, and I am so happy to have large containers of them in my fridge this week, but last night's chicken soup with rice was the clear favorite — the Real Life Delicious version has whole grain brown rice, lean chicken breast meat, and a some green chiles for little added kick.
Chicken Soup with Rice (Kicked-up Version)
Ingredients
2 large boneless-skinless chicken breasts (look for humanely raised, free range chicken that has not been given or fed antibiotics)
1 tbs. olive oil
1/2 onion, chopped
3 celery stalks, chopped
2 garlic cloves, minced
t tomato, diced
1 quart organic, low-sodium chicken broth
1 bay leaf
Salt & pepper
4 white corn tortillas, shredded by hand
1 4-oz. can diced green chiles
1-2 cups cooked brown rice (I like short grain brown rice for its chewy, slightly sticky consistency)
First, poach the chicken breasts: In a deep skillet, bring about 1 1/2 cups water (seasoned with a little salt and maybe a little celery and onion) to a boil over high heat. Add the chicken breasts to the pan, return to a boil, and cook for 3 minutes. Cover, remove from heat, and let stand for 10-15 minutes more. Remove chicken from liquid and set aside. In a large pot or Dutch oven, heat oil over medium heat. Add onion and celery and cook for 5 minutes, then add garlic and cook another 5 minutes until all are translucent. Add tomatoes and stir. Add chicken broth, bay leaf, a pinch of salt & pepper, about half of the shredded tortillas, and the green chiles. Simmer for at least 20-30 minutes. If the soup seems too thick, you can add a couple cups of water; if it's too thin, add a couple more of the tortillas. Shred the chicken breasts with two forks (one in each hand) or cut into bite-sized pieces. Before serving, add the chicken and rice to the pot and cook on medium-low heat for at least 10 minutes longer. Test seasonings and add salt if needed.
Keep warm everyone!
Speaking of soup, my NEW class for January, "Stone Soup," is all about making nourishing, warming, rejuvenating soups that your family will love! Learn how to improvise with confidence as well as the secrets to taking soup from just okay to just amazing. We'll make several large batches so you can even take some home!
The date is Thursday, January 31. Contact me for more information or to sign up!