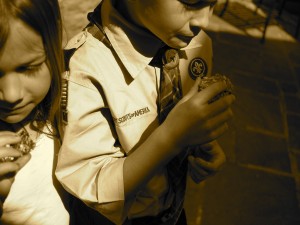 One of the food-related things that seems to vex moms more than any other is what to give kids for after-school snacks. I am right there with anyone who struggles with this. It took me a while — an embarrassingly long while actually — to realize why my kids were always so cranky and even lethargic after school. I mean, elementary school is hard but it's not that hard. When it finally dawned on me that they eat lunch at 10:50 a.m. and then eat nothing else until 3 p.m., needless to say, I started taking the whole snack issue a lot more seriously.
It's amazing, though, how often I stare at the pantry — with my kids drooping into a near-comatose state from hunger — at a total loss for what to make for snack.
In preparing for my upcoming class on meals that don't necessarily happen at the dinner table (more on this later!), I've come up with a few simple strategies for winning the snack battle:
1) Think about it ahead of time. This seems kind of obvious, but before you pick up the kids from school, think about your snack options based on what you have in the cupboard and formulate a bit of a plan. I'm not suggesting a daily snack meal plan, but a quick minute's worth of thought can head off a meltdown caused by promising yogurt parfaits to starving children and then getting home and realizing you're out of Stonyfield.
2) Prep. Just as this can help with weeknight meals, a little advance prep work can mean the difference between presenting your kids with a beautiful veggie-hummus-turkey smorgasbord or a bowl of Pirate's Booty. Not that there's anything necessarily wrong with Pirate's Booty, but if the veggies are already cleaned and cut or the edamame is already boiled, you'll have many more options. Find a 10-minute time slot when the kids are doing homework or even on the weekend, and get the veggies and fruit ready to go.
2) Keep a snack list. During one of my lame bowls-of-Pirate's Booty punts, I remember thinking, I wish I had a list of snack ideas. Well, here is a list of snack ideas. It's in no way comprehensive, but these are some of our go-to snacks. All are pretty healthy (although definitely not balanced meals), easy and quick to make, and finicky-kid-approved. I suggest finding a place to keep a list of snack ideas. You can even let your kids add their ideas to the list; you can always veto the cupcakes and Oreos. I'd love it if you could add your family's favorite snacks to the list; just write them in the "comments" section, thanks!
Snack Ideas for Angry Gremlins (I mean hungry kids):
Peanut butter on apples with granola
Whole wheat tortilla with thinly sliced apple, peanut butter, and a sprinkle of granola
Peanut butter and banana quesadilla (spread mashed banana and peanut butter on tortilla, warm in microwave for 30 seconds)
Yogurt parfait (layer cut fruit with organic yogurt and nuts or granola in a fancy glass)
Nachos (sprinkle grated cheese on corn chips and melt under the broiler for 3 minutes, add beans or leftover veggies if you have)
Corn tortillas with melted mozzarella (roll a string cheese stick inside a corn tortilla and microwave for 1 minute)
Chips & salsa
Homemade tortilla chips (I made these on "Colorado's Best," and they're great with hummus, salsa, or marinara)
Cut veggies & dip (hummus, homemade ranch)
Roasted pears (Okay I lied; these aren't that quick, but they're a big hit. Slice the pears and cook them for 30 minutes in a 400-degree oven.)
Roasted nuts (blanch some raw almonds, then toss with olive oil and spices and roast at 350 for 15-20 minutes)
Trail mix
Kale chips
PB&Js (whole wheat bread, organic, sugar-free peanut butter & jelly)
Leftovers (last night's chicken becomes a quesadilla, etc.)
Flour tortilla pizzas
Ham & Swiss quesadilla
Edamame
Relish tray (olives, cherry tomatoes, carrots, maybe some nuts)
Hummus with pita bread slices, carrots, cucumbers, etc.
Organic Soup Cups (my son loves Dr. McDougal's)
Homemade granola bars (recipe below)
Granola Bars
When it comes to portable snacks, my kids love granola bars. This was easy before I learned about the whole arsenic-in-brown-rice-syrup scare and stopped buying Cascadian Farms Organic Granola Bars or Clif Z-Bars cold turkey — which has forced me to practice what I preach and start making my own granola bars more often. There are lots of granola bar recipes out there, and I've tried most of them. This improvised version is low in sugar, it's wheat- and dairy-free, and it's very easy to make. I only partially baked these, so they remained chewy in the fridge. The kids loved them, and so did I. They look a lot like cookies so can easily be passed off as treats, too.
Ingredients
1 cup raw almonds
1/2 cup almond butter
1/2 cup dates
1/2 cup shredded unsweetened coconut
1 tbs. maple syrup
1/4 cup dried blueberries (or raisins, cherries, etc.)
Preheat oven to 350 degrees. In a food processor, pulse 1/2 cup of the almonds until finely ground. Add almond butter and process to combine. Add dates, remaining almonds, coconut, and maple syrup and chop until combined but still crunchy. Add in the berries or other fruit (you could also add mini chocolate chips) and mix to combine. My batter got pretty thick at this point so I kneaded it with my hands. Form into 2-inch balls and flatten to less than an inch thick. Bake for 10 minutes. Refrigerate on the baking tray until hardened, then transfer to an airtight container. Will keep for a week in the fridge.
One last addition to the snack-idea list is the delectable Chocolate Almond Coconut Balls that my guest blogger (and great friend) Helen Olsson will be sharing with us tomorrow. Yay!