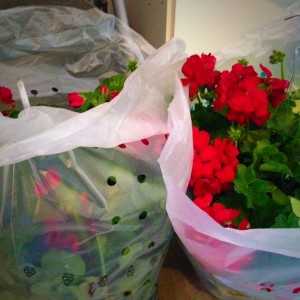 We used to spend Mother's Day at the garden center and then in the yard with potting soil and baby tomato plants. Lately, though (well, for the last two years anyway), we've put that tradition on hold due to snow. Yes, snow. In May. Other than wreaking havoc on trees, power lines, and my peonies, it's kind of crazy-fun to get the odd mid-May snowstorm, especially on Mother's Day eve.
Yesterday was a gift. I really enjoyed some time curled up with a book (I really enjoyed my new Madewell scarf, too). And once I felt significantly rested (dare I say I got a little bored?), I made some soup. I know my family is supposed to treat me to a special dinner on Mother's Day, but nobody was in the mood for grilling out, which had been the plan. And I love making soup, especially when it's cold and snowy. Normally, I don't have too many chances to make a big pot of soup this time of year, so I took advantage and made one of my current favorites: Red Lentil Soup with Chicken
This soup is a riff on a Melissa Clark recipe that I love. But mine has chicken in it so it's a full meal. I use chicken thighs, and I gotta say, they are perfect in this. My daughter (she's the picky one) actually said, "Mom, this chicken is amazing." This soup makes your house smell delicious. It's perfect for a snowy evening any time of year (although I really hope I'm not saying this in June or July…).
Red Lentil Soup with Chicken
Ingredients
2 tbs. olive
1/2 large onion, diced
2-3 stalks celery, diced
2-3 carrots, peeled and diced
2 garlic cloves, minced
Salt & pepper
2 tbs. tomato paste
10 cups chicken stock (or a combination of chicken stock & water)
2 cups red lentils
1 lb. boneless, skinless chicken thighs
1 lemon
Heat the oil in a large Dutch oven over medium-high heat and add the onion, celery, carrots, and garlic. Season with salt & pepper. Cook until the vegetables have softened and slightly browned, about 10 mins. Add the tomato paste and stir to coat the vegetables. Cook for about 2 mins. Add the chicken stock and lentils and bring to a boil. Season the chicken with salt & pepper. Reduce the heat to a gentle simmer and add the chicken to the pot. Cover and continue cooking for 1 hour. Remove the chicken thighs and put them on a cutting board to cool. Using an immersion blender, partially blend the soup so it's somewhere between pureed and brothy (creamy but chunky if you will). Using two forks, shred the chicken and return it to the pot. Squeeze half the lemon into the soup and taste. Add more salt & pepper (and possible more lemon) if needed.