When I originally started writing this post, I was going on and on about my family's hectic Monday nights, and how I make soup every Monday because otherwise we'd be hitting the Chick-fil-A drive-thru in between our dueling activities that go on late into the evening.
And then it snowed last night. And I found myself making soup again today (Wednesday). And then I realized it doesn't need to be Monday or snowing or anything else really in order for soup to be a good idea.
Throw this soup together in the late afternoon while you're kids are doing homework and then eat whenever you're ready. It will be there waiting (just getting better and better, actually). As you know, soup is warm and comforting. And for some weird reason my kids will eat things (kale, carrots, possibly quinoa) in soup that they otherwise might scoff at.
I have some tried-and-true favorite soups (such as this and this), but sometimes I improvise. If I happen to have homemade stock from a chicken I roasted on Sunday,  that's a bonus — but definitely not required. Last week, I happened to have some pesto, the absolute and very end our summer garden. (I'd waited and waited to pick the basil from my two bushy plants and was sure I'd be bathing in pesto for months. But it went all too quickly. As pesto is known to do.) That served as the inspiration for this week's soup, Chicken & Quinoa Soup with Pesto. Sometimes when I improvise, the results are just meh. This one was good — make-again and tell people about it good.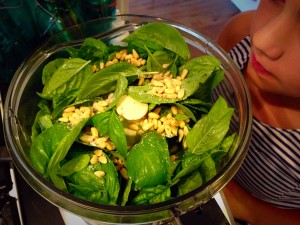 There's a lot going on in this one-pot wonder: It's got chicken (obviously); quinoa — something I've never put in soup before, but yum; veggies galore; and the pesto, which makes me pine for summer just a little (especially as I look out at the melting snow soaking the pillows on my patio furniture that I forgot to bring in yesterday). Oh, and kale. I love kale in soup; it just gets better the longer it soaks in the broth. My family loved this soup, and I just finished off the rest of it for lunch a few days later and it was still delicious.


Chicken & Quinoa Soup with Pesto
Ingredients
2 tbs. olive oil
1/2 onion, chopped
1 garlic clove, chopped
2–3 celery ribs, chopped
2 carrots, chopped
4 cups chicken broth (or homemade stock)
4 cups water
5 boneless, skinless chicken thighs
1/2 cup quinoa (rinsed well in a fine-mesh strainer)
4-5 large kale leaves, removed from stalks and chopped
1 zucchini, chopped
3 tbs. basil pesto (homemade or store bought)
Salt & pepper
Heat oil in a large pot or Dutch oven over medium heat. Add onions and sauté for 3 mins. until slightly soft. Add garlic, celery, and carrots and cook for 5 more mins., stirring frequently. Add broth and water and bring to a boil. Add chicken thighs and reduce heat to simmer, cover, and cook for 30 mins. After 30 mins. add quinoa and cook for 15-20 mins. more. Remove chicken with tongs and set on a cutting board to cool. In the meantime add the kale, zucchini, and pesto to the pot. Cut the chicken into bite-size pieces and put back in the soup. Simmer for a few more minutes until the veggies are to your liking. Taste and season with salt & pepper.