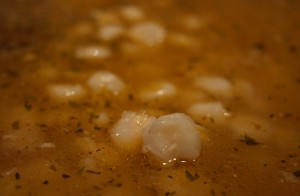 Posole (or pozole as it's more authentically called) has a history that may be a little bit too interesting for a food blog. I won't go into what I know of the details, but this dish is originally from ancient Mexico, during a time when people practiced ritual human sacrifice. After the Spanish came along and abolished some of the more, um, outdated forms of religious communion, posole remained popular as a celebratory meal (albeit with pork as the main ingredient). Today, posole is part of traditional Mexican Christmas celebrations, and it's still a popular menu item at many southwestern restaurants.
I made this modern version of posole for a teacher-appreciation lunch at my kids' school, then again to serve on Halloween (to celebrate that it was almost over; don't get me wrong, I love Halloween, but it's getting to be a bit much these days, isn't it?), and I just made some more because it's cold outside. This soup is easy to make from simple, everyday ingredients — well, except for hominy, which I guess isn't really an everyday ingredient. (Dried, canned, and frozen hominy are all readily available in grocery stores here in Colorado. If you can't find any, you can buy canned hominy online.) While it would be very cool and commendable to go the dry-hominy route, my mom recommends the frozen kind and says it's just as good. And she's made a lot of posole. I used canned because that's what I had, and it was delicious; just make sure to rinse it really well.
I just love the chewy-corn taste and texture of the hominy; it really adds a different dimension to what is basically chicken soup. This posole is lighter and healthier than traditional pork versions, yet it's still filling and substantial — especially considering it contains no noodles, potatoes, or rice. I used mild green chiles to keep it kid friendly, but feel free to add some heat (we served it with our favorite Mexican habanero hot sauce.) This is a great way to use that package of boneless, skinless chicken breasts you bought and stuck in the freezer before realizing that boneless, skinless chicken breasts are pretty blah.
One piece of advice based on what I learned by accident when I made this for the teachers' lunch: While this is tasty right after you make it, if you let it sit overnight, the corn flavor really develops and makes the whole thing taste extra incredible — with no extra effort on your part. Except waiting a bit I guess.
Chicken Posole
Ingredients
4 boneless, skinless chicken breasts
4 tbs. olive oil
1 onion, chopped
3 cloves garlic, minced
2 quarts chicken broth
4 cups water
1 tsp. dried oregano
1 tsp. cumin
2-4 tbs. chili powder
1 cup diced roasted green chiles (such as Hatch, fresh or canned)
4 cups white hominy, rinsed and drained
Salt & pepper
Corn chips (optional)
Heat about 2 tsp. oil in a deep skillet or Dutch oven over medium-high heat. Add chicken breasts, cook about 20 minutes. The chicken should be browned and well cooked (juices should run clear, not pink, when pricked with a fork). Remove from skillet. When cooled, cut chicken into roughly bite-sized pieces. In the same pan, heat remaining 2 tbs. oil over medium-high heat. Cook onion and garlic until transparent, about 5 minutes. Add cooked chicken then broth, water, spices, chili powder, green chiles, and a pinch or two of salt. Reduce heat to low, cover, and cook about 1 hour. Stir in the hominy and cook about 20 minutes more. If possible, let sit in the fridge overnight, and something magical will happen to it. If, when you reheat it, the soup seems like it needs thickening, add a handful or two of crushed tortilla chips (I dumped in the crumbs from the bottom of a bag).