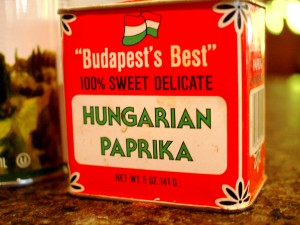 I don't know if this automatically qualifies me as a snob, but I'm not a fan of recipes that call for cans of cream-of-anything soup. First, if you've been reading this blog for a while, you know about my concern with canned foods in general (if not, you can read one of my BPA-related posts here). And then of course there's condensed soups' long ingredients lists, which usually include monosodium glutamate, modified food starch, and soy protein concentrate. Although only one of these, MSG, is a suspected neuro-toxin, the other two are probably harmless, although highly processed, filling and gelling agents. Just not my thing.
So, although I have to admit to having fond childhood memories of hot cups of Cream-of-Mushroom soup on cold days after school, I can't bring myself to cook with it now. Alas, every recipe for beef Stroganoff I think I've ever seen calls for a can of cream soup. Last week, I really had a hankering for this warm and hearty dish, and I happened to have a pound of thawed ground meat and a bunch of mushrooms on hand, so I played around with some soup alternatives and came up with this recipe. Which is probably closer to the traditional version anyway, right? I mean, I doubt they had Campbell's soup in Imperial Russia — just sayin'.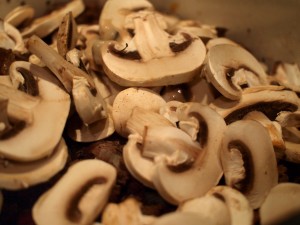 Ground Beef Stroganoff
Ingredients
1 lb. ground meat (preferably grass-fed beef or free-range turkey)
1 onion, chopped
8 oz. fresh mushrooms, sliced
1-2 garlic cloves, chopped
1/2 to 1 cup beef (preferably) or chicken stock, or reserved pasta water
Up to 1/2 cup sour cream or creme fraiche
Paprika
Splash of sherry or brandy
Pinch of salt and fresh ground pepper
1 package wide egg noodles, pappardelle, or whole wheat linguine
Bring a large pot of salted water to a boil and cook pasta according to package directions. Drain and set aside. In a large skillet or Dutch oven, brown the meat with the salt & pepper and a pinch or two of paprika until cooked through. Drain the extra fat from the pan if necessary (it probably won't be if you're using lean grass-fed beef). Add the chopped onions and garlic and cook until softened and translucent. Add the mushrooms and cook for another 3-5 minutes. Stir in the liquid (stock or water), sherry or brandy, and about 2 tbs of the sour cream. Cook for another 5 minutes and season to taste. If it seems like it wants to be a little creamier, add more sour cream.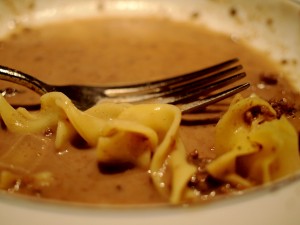 I went light on the sour cream, and my Stroganoff was a little…soupy. But the flavor was really rich and complex. This was a big hit at my house (although, for the kids, that could have been due to fact that there were more noodles than mushrooms).
Serve over cooked noodles with a shot of vodka (Just kidding about the vodka. Kinda.)