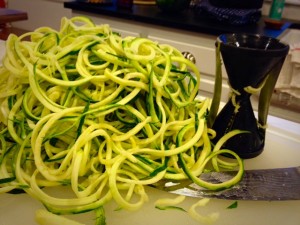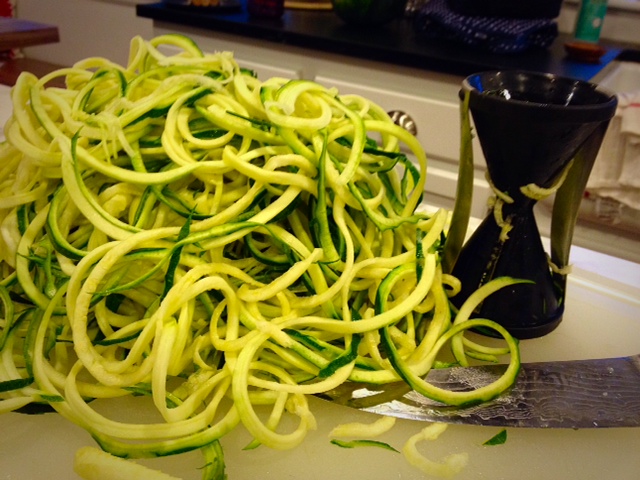 If not,  you totally should.
I've held off writing about this because I generally tend to avoid posting recipes and ideas that require you to go out and buy a kitchen gadget. But this kitchen gadget is small enough to fit in your utensil drawer, has no attachments, and doesn't cost much.
And it makes noodles out of zucchini.
No, really.
Noodles you can twirl and slurp and enjoy no matter what your dietary restrictions (unless you're allergic to zucchini).
I'm talking about the Japanese spiral slicer, also known as a Spirelli, spiralizer, zoodle maker, and generally the most fun and useful kitchen tool to enter my home since my trusty Braun immersion blender. If you don't have one, you can order one here; I just noticed they have them at Bed, Bath & Beyond and eBay, too. Williams-Sonoma sells a more expensive crank version (of course) that sits on your counter, but I haven't tried it.
I first discovered the spiral slicer when my husband gave up gluten (along with all other grains), and my family kind of went crazy for "zoodles" (except my daughter, who for some reason, prefers her zucchini sliced into discs — whatever). I started giving spiralizers out as goody bag gifts to people to who come to my Gluten-Free & Paleo Family Food cooking classes (which, by the way, I'm offering again this fall!). At first people were skeptical (like I was when I googled and ordered mine about a year ago) about the little hourglass-shaped tool, but then they started cutting yard-long ribbons from regular squash — audible amazement always followed.
With my spiral slicer, it's super easy to turn 6-8 zucchini into a huge plate of the world's healthiest "noodles." It also easily juliennes carrots, Japanese eggplants, and summer squash, but I am partial to zucchini because it's always piling up and has a mild enough flavor to (almost) pass for pasta. I, being a veggie lover, actually prefer zoodles to noodles, by the way. Once it's cut (By the way, don't even bother with the little endpiece/holder that comes with the spiralizer; just hold the end and watch your fingers.), you can use your pasta in any recipe. Instead of boiling it, I sauté it in a large pan with olive oil until it's soft before tossing with the sauce. I've tried zucchini noodles with roasted veggies, butter and shaved Parmesan, and fresh tomato sauce, but my favorite way is with a hearty meat sauce like Bolognese. It feels like sitting down to a gut-bomb pasta dinner, which is not a bad thing, especially when it isn't, right?
If you're not gluten-free, it's still okay to eat more vegetables. And this is one wicked awesome way to do that.
Zucchini "Pasta" with Quick Bolognese
Ingredients
4 tbs. olive oil
1/2 onion, chopped
1 garlic clove, chopped
1 lb. ground meat (I use elk because my husband is a hunter, but you can grass-fed beef, turkey, or a mix of one of those with Italian sausage)
1 28-oz. can organic crushed or diced tomatoes (such as Muir Glen)
Pinch dried oregano
Salt & black pepper
Organic zucchini squash (about 2 medium squash per person)
Parmesan cheese
Heat 2 tbs. oil in a large skillet over medium heat and add onions. When onions are translucent, add garlic and stir. Add meat and break apart with a wooden spatula. Continue cooking until meat is browned and thoroughly cooked, about 10-15 mins. Stir in tomatoes and their juice, oregano, and salt & pepper. Bring to a boil and allow to bubble away while you spiralize your zucchini. THe longer the sauce bubbles, the better, so take your time here. (While cutting, you will end up with torpedo-shaped stubs where you're holding the squash; I slice those and sauté for my annoyingly adorably picky 9-year-old.) In another large skillet or pan, heat oil and sauté zucchini noodles until desired consistency, remove from heat. Using tongs, pull the noodles from the pan (some will be very, very long) and divide among plates. Check sauce for seasonings and add more salt & pepper if needed. Ladle sauce over pasta and garnish with freshly grated Parmesan. Twirl away.