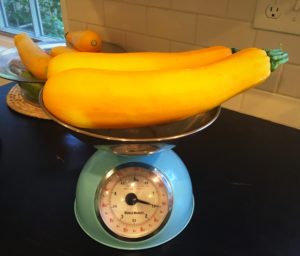 My zucchini are yellow this year. Don't ask me why because I have no idea. Isn't it the most beautiful color though? I might paint a bathroom that color; it would be hard to feel anything but cheerful in a room that color. Anyway, they are huge. My theory about why home garden–grown squash is so much bigger than grocery store squash is that, assuming other people with gardens are like me, we just forget to go out and pick it. And it seems like a cute little zucchini can become a behemoth in about two days.
Like just about everyone who gardens (or lives next-door to someone who gardens), I never know what to do with my zucchini bounty. I've sautéed more squash in the last few weeks that you want to know. And I even made gluten-free zucchini bread. And I broiled one to make a zucchini baba ganoush (which was delicious by the way; I used regular yogurt and skipped the Roquefort cheese — but how much baba ganoush can you eat?).
That left my usual main use for zucchini: noodles. I can't tell you how much I feel like zucchini noodles have changed my life, and I break out my trusty hand-held spiralizer at least once a week. Don't get me wrong, I still eat regular pasta occasionally, but it's great to be able to enjoy all the pasta toppings I love (bolognese, meatballs, pesto) more often without all that pasta weighing me down. (Plus, my daughter suffers from headaches and stomach aches, so we are currently doing a gluten-free challenge with her to see if eliminating wheat will make her feel better — jury is still out.)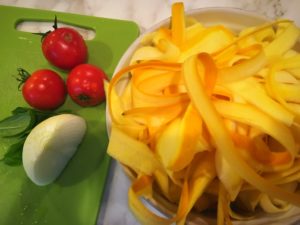 But, since these babies don't fit in the spiralizer, I used a vegetable peeler. (I have a collection of these; I'm weirdly picky about vegetable peelers. If yours is too newfangled or fancy, it might make too-thin ribbons, so an old, crappy peeler that looks like an antique actually works better for this.) to cut long ribbons. The result was zucchini pappardelle. Which, combined with chopped tomatoes from our garden and a bunch of basil (probably the only thing more prolific than squash), made a delicious dinner that was every bit as satisfying — and a lot better for you, unless you're running a marathon the next day — than a plate of pasta.
Zucchini Pappardelle with Pesto & Tomatoes
Ingredients
1 large (2-3 lb.) zucchini or summer squash
2 tbs. olive oil
1/2 onion
2 garlic cloves, minced
3 small (or 1 large) bright red tomatoes, chopped
1 pint fresh mushrooms, chopped
1/4 cup basil pesto (either fresh store-bought or homemade, recipe below)
Salt & pepper
Parmesan cheese
Using a vegetable peeler, cut the squash into long ribbons, stopping when you get to the seeds. Heat oil in a large skillet over medium-high heat. Add onions and sauté for 3 mins. then add garlic and sauté for another minute or so. Stir in squash ribbons, tomatoes, and mushrooms and cook until soft, about 10 mins., stirring frequently. Stir in pesto sauce. Add salt & pepper (and maybe a little crushed red pepper, too) to taste. Sprinkle with parmesan cheese.
Basil Pesto
Ingredients
3-4 cups (loosely packed) basil leaves
Pinch of salt
1 garlic glove
3-4 tbs. pine nuts
1/4–1/2 cup extra virgin olive oil.
1/4 cup Grated Parmesan cheese
Rinse and dry basil leaves using paper towels or a salad spinner. In the bowl of a food processor, combine the basil leaves, salt, garlic, pine nuts, and 1/4 cup of the olive oil. Process the mixture, drizzling a little more oil in as the machine is running. If you're going to eat it fresh, add grated Parmesan, only stir it in by hand instead of adding to the food processor. If you'll be storing the pesto, don't add the cheese until you're ready to eat it.