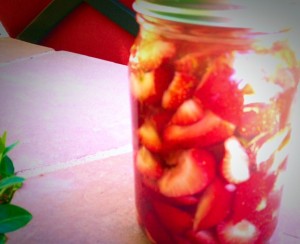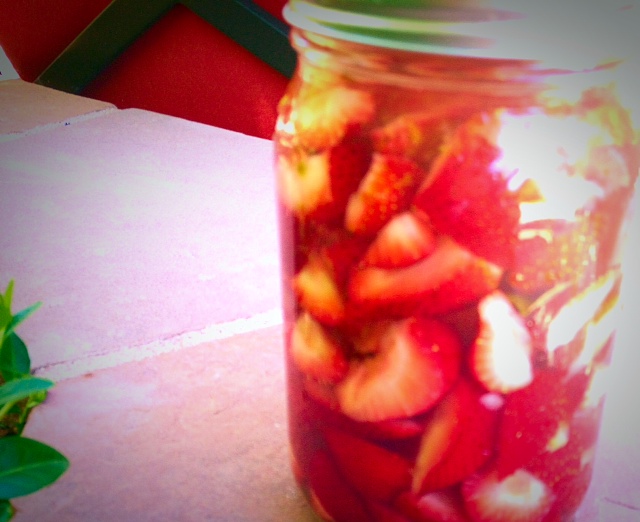 Don't you just love when you walk into the grocery store and are pummeled by the smell of fresh strawberries — when those aromatic (organic) beauties are not only taking over the produce aisle but they're actually On Sale?
When strawberries are delicious and perfect, like they are right now, I put them on and in just about everything — salads, appetizer trays, my mouth. Last week I made fresh strawberry syrup to take on our 4th of July camping trip (simply cook 1 cup berries, 1 cup water, a few drops of fresh lemon juice, a couple lemon seeds, and 1/2 cup sugar in a saucepan over medium heat for about 30 minutes, smashing the berries with a spoon or potato masher as they cook. The mixture will thicken to a syrup as it cools. Pick out the lemon seeds with a fork and pour syrup into a jar.)
I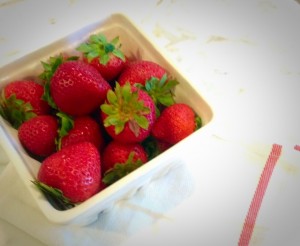 could go on and on about how strawberries add just the right amount of sweetness and tang to everything from grilled chicken salads to cucumber sandwiches, but today I'm thinking cocktails. Strawberry-infused vodka is the basis for what might be the ultimate summer drink: Strawberry vodka lemonade.
When you infuse vodka with strawberries, the alcohol basically steals all the flavor and color from the berries. What you're left with is beautiful, dark pink liquid (and some yucky-looking grayish fruit, which you strain out). It takes a day or two for this process to take place, but otherwise this is a simple way to make extra-special drinks for your next backyard gathering. A cute mason jar of strawberry-infused vodka would be a quite welcome hostess gift in my house, just sayin'…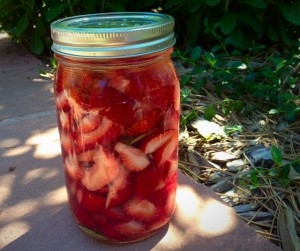 Strawberry-Infused Vodka
Ingredients (The quantities here are for filling a 1-quart jar with vodka; if you don't want to commit to that much vodka, get a smaller jar and you'll probably only need a pint or less of berries.)
1 lb. organic strawberries, hulled, rinsed and allowed to dry
1 quart vodka (This doesn't have to be top shelf, but probably not "rotgut" either; I used Tito's.)
2-3 fresh basil leaves (optional)
Cut the berries into pieces and pile them into a 1-quart canning jar with a 2-piece lid; don't pack them tightly, but fill the jar to almost the brim. If using the basil (I did this and honestly couldn't really taste it, but it looked pretty while infusing), layer the leaves among the berries as you fill the jar. Pour in the vodka to the top and close the lid tightly. Shake and set aside in a cool place for 1-3 days (or more), shaking occasionally if you think of it. The vodka is ready to use when it smells strongly of (boozy) berries.
To use the vodka, pour it through a fine-mesh (or cocktail) strainer into another jar or a measuring cup. Mix with fresh, homemade lemonade (here's my recipe) and ice and garnish with a basil leaf. Ahhh, now that tastes like summer.