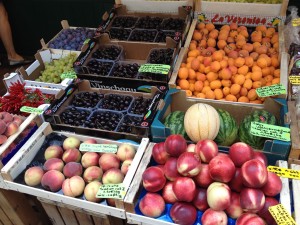 Imagine my surprise when I logged on here and realized I hadn't posted since July 2. I hope you all had as fun a summer as I did.
Although I wasn't writing much, I was eating plenty. I traveled to places that really inspired me with their simple, beautiful, real food. And I had more than my fair share of pasta, clams, berries, tuna, gelato, eggplant, and spicy mustard. I have lots of stories, ideas, and new recipes to share in the upcoming weeks.
And although we are in the midst of week-2 of school (As an aside, but I have a question: Does anyone know why most schools start in mid August these days? Does anybody like this? I mean, don't we live in a democracy?), I'm trying to hang onto summer for a few more weeks. The full-on sit-down family dinner and weekly meal planning can wait. I'm still winging it while I can — i.e. dinner might be something inspired by a bike ride to the farmer's market or friends dropping by with a homemade peach crisp. Or dinner might be ceviche.
Maybe because it is something usually eaten on vacation with a beer in the other hand, I don't feel like I can get away with ceviche as a meal on a typical weeknight. But when it's 95 degrees at 6 p.m. and the stove is off limits, there's nothing I'd rather call dinner. If you need a good (easy) ceviche recipe, my favorite is this. If you're interested in trying something new, this Summer Fruit & Vegetable Ceviche is a really tasty option. I had this at a friend's house for dinner and have made it several times since then. I love it because it uses some of my favorite summer things: fresh corn, nectarines, and fancy little tomatoes. This makes a lovely (literally, it's so beautiful) appetizer (with chips), side dish on taco night, or light vegetarian supper (serve with warm tortillas). Having a beer with this is optional, but eating it outside is not.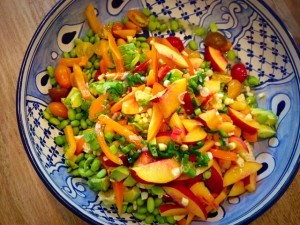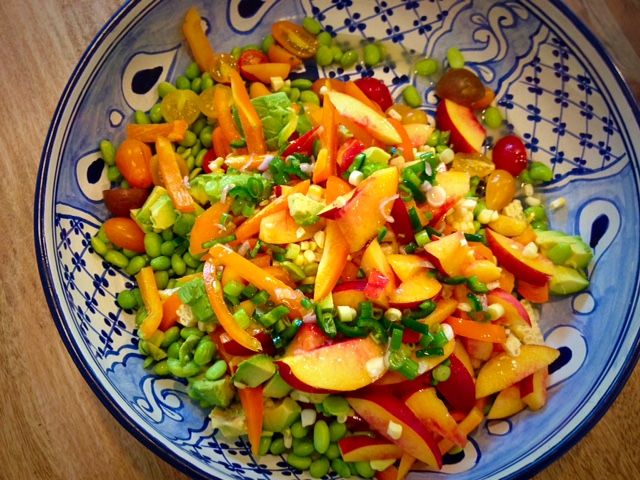 Summer Fruit & Vegetable Ceviche
Ingredients
1 cup frozen baby lima jeans (I used frozen edamame because I couldn't find lima beans)
1/2 cup fresh lime juice (about 3 limes' worth)
1/4 cup extra-virgin olive oil
1 scallion, thinly sliced
1 jalapeño, seeded and thinly sliced
1 small shallot, thinly sliced
Sea salt
1 1/2 cup fresh corn kernels (from 2 ears)
2 nectarines, cut into thin wedges
1 large avocado, cut into 1/2″ cubes
1 orange bell pepper, cut into 1″ slices (or red bell pepper)
1 pint heirloom cherry tomatoes, halved
1/2 cup coursely chopped cilantro leaves

Steam the lima beans for 10 mins. (or boil edamame for 5 mins.), rinse under cold water. In large bowl, whisk lime juice with olive oil, scallion, jalapeño, and shallot; season dressing with salt. Gently fold in lima beans (or edamame), corn, nectarines, avocado, bell pepper, and tomatoes. Refrigerate for at least 2 hours and up to 8 hours. Stir in cilantro before serving. Taste and add salt if needed. Serve chilled. 
I'm cooking up some NEW classes this fall! Join me Sept. 22 & Sept. 30 for Easy Weeknight Meals. We will make delicious, healthy, family-friendly meals you can whip up on those nights when you just. can't. take. it. any. more. Time: 10:30 a.m. – 12:30 p.m. Cost: $160 per person To SIGN UP: email

moc.suoiciledefillaer

null

@niveb

and indicate which date you'd like to attend.