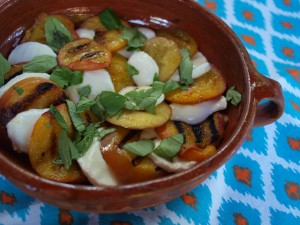 Well, they're finally here. Summer peaches are my single favorite thing to eat (okay, aside from tacos), and once they're really and truly in season, I go a little crazy. I think this is because by now I've suffered so much indignation and disappointment stemming from my inability to wait for the real thing and thus repeatedly trying the small, hard, and mealy fruit the stores try to pass off as peaches in June. But if I hadn't suffered this disappointment and the built-up anticipation that goes along with it, maybe I wouldn't be quite this giddy now that the real-deal apex of deliciousness is here…
Regardless, I will be eating one to five peaches per day for at least the next few weeks. I never get tired of eating them straight — or in salads, on cereal, in ice cream, strained into lemonade (with vodka) — but I still love experimenting with new ways to cook and eat peaches. This recipe was inspired by my basil plant, which is growing like a weed these days, and my belief that the only thing that can compete with a fresh peach is a grilled fresh peach. This appetizer is easy to share and it's a little messy — best for good friends and family, which is who deserves it anyway. It's could also pass for dessert, although probably not with my kids.
Summer Peach Caprese with Peach Vinaigrette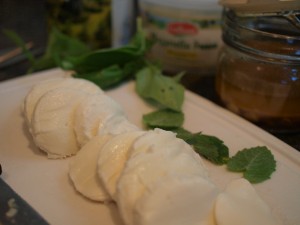 Ingredients
3-5 large organic peaches (Alas, peaches are on the Dirty Dozen so try to buy organic.)
1 ball fresh mozzarella (about 1 lb.)
About 10 basil leaves
Olive oil (1/3 cup for the vinaigrette plus about one tbs. for grilling the peaches)
1 small shallot, finely diced
2 tbs. honey
Juice of one lime
Salt & pepper
Slice the (unpeeled) peaches into about 1/4″ disks. Save the extra parts of the peaches that will be left over after making the round slices. Preheat your grill (or use a grill pan on high heat). Brush the peaches on both sides with olive oil and and grill them, covered, for about 4 minutes per side. Check to make sure they're not burning, but let some grill marks develop. Slice the cheese into 1/4″ disks.
To make the dressing, finely dice the remaining peach bits (you should have about the equivalent of one whole peach) and combine with olive oil, shallots, honey, lime juice, and salt & pepper in a small jar with a tight lid. Shake well. Once the peaches are done, allow to cool partially then layer in a dish with the sliced mozzarella and drizzle with dressing. Sprinkle chopped basil leaves on top. If you have some fresh mint, chop some up and throw it on there, too. Serve with a baguette and lots of napkins.