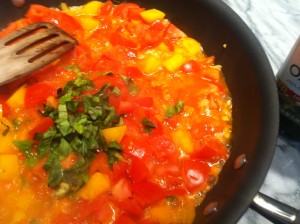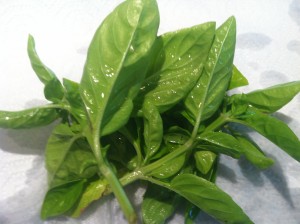 I'm trying to be in denial about the fact that school is coming around the corner like a freight train. There will be time enough to bemoan the shortness of the vacation and the return to lunches, backpacks, and homework soon enough (in, um, four days), right? You don't want to hear about that yet, do you? Thought not. How about babies and tomatoes instead? Yeah, let the denial continue!
One of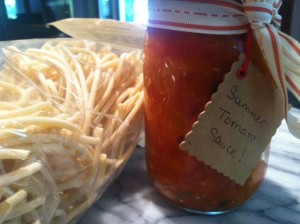 my neighbors just gave birth to adorable boy-girl twins. This is of course a cause for celebration, which we've done and will do some more. It's also a cause for bringing dinner. And while I appreciate the whole "care calendar" concept, I remember feeling a little overwhelmed by the almost-daily meals that arrived at 5 p.m. Even though I loved my friends for bringing them, sometimes I didn't feel like lasagne or enchiladas that night. Or I was just too tired to eat.
So now, when I'm visiting a new mom, I try to bring something that she (and her probably starving spouse) can eat, but don't necessarily have to eat that very night. I like to think of these meals as "gifts of food and time" — and this time of year, my favorite gift is Summer Tomato Sauce. I like to make a batch and bring it in a jar with a bag of pasta (like Italian Pici or organic spaghetti), and a hunk of Parmesan. The sauce will keep for at least a week. When mom and dad want dinner, all they have to do is boil a pot of water and toss the drained, hot pasta with the jarred sauce — straight out of the fridge.
I've written about this sauce before, usually with a link to the post I wrote about it back when I first started this blog. I often teach this recipe in my cooking classes, just to demonstrate how simple and delicious it is. But it occurred to me that it wouldn't hurt to post the recipe again, just because I really want you to make this! And soon, because the tomatoes are so beautiful right now. You don't need to peel them or even chop them very finely. And if you don't really feel like pasta (or chicken, or eggplant, or fish…) with tomato sauce tonight, that's okay. It keeps. You might feel like it next week when you're trying to help your kids find their soccer socks or remember how to do long division (but let's not go there yet!).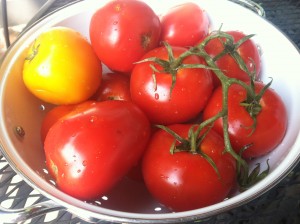 Summer Tomato Sauce
Ingredients
1/2 onion, diced
2 garlic cloves, minced
4 lbs. tomatoes, assorted varieties (and colors)
1/4 cup fresh basil leaves
2 tbs. extra virgin olive oil
Salt & pepper
In a large skillet over medium heat, heat the olive oil and sauté the onions for about 5 mins. while chopping the garlic. Add the garlic to the pan and cook while chopping the tomatoes. Add the tomatoes to the pan. Turn up the burner to high and and add the basil (to cut the basil, stack the leaves and roll them up like a cigar, then cut with scissors) and stir. Add a hefty pinch of salt and a couple grinds of pepper. Cook over high heat, stirring occasionally, for 20 mins. You can either leave it like this or use a potato masher to make it somewhat smoother, but it will still be a chunky sauce.