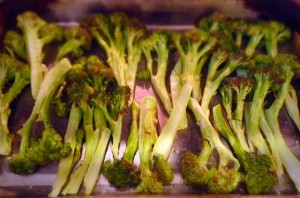 Recently someone gave me a cookbook called Ten Dollar Dinners, which is based on a show on Food Network. While I was grateful for the gift, I just assumed the book would be filled with tuna-noodle casseroles and tips like "stretching" guacamole with mayo or sour cream, so I didn't even crack its cover for over a week. When I finally did sit down to look through it, I was amazed by the abundance of great, common sense tips and fresh, non-gimmicky recipes. The author, Melissa D'Arabian, lived in France for a while and is married to a Frenchman, and many of her recipes, such as Soupe au Pistou and Roasted Eggplant, Onion, and Tomato Tian, have a French flair. And while there are recipes for Crispy Sardines and Smoked Tuna Spread (both made with relatively inexpensive canned fish), there is nothing even remotely like a tuna-noodle casserole in the entire book.
Beyond the recipes, I really appreciated the author's "Strategies for Saving," which are not only helpful in saving money but in being more efficient, responsible, and simply smarter in the kitchen. That's the thing about trying to be more cost conscious about the food we buy and how we store and prepare it: Often the strategies that save you money also save time, reduce waste, and even can lessen anxiety and stress over what to make for dinner. So I thought I'd share some of her tips with you. Plus, I made her Roasted Broccoli with Parmesan Cheese, which is a very simple recipe but has one key difference from the roasted broccoli I make about once a week — and it was kind of revelatory. So here's that recipe, too.
Strategies for Saving
Try a clear-the-pantry week. This is one of my favorite things to do, especially after the holidays or after we've had company or a party and the fridge is full of random, and excessive, food items. "Take a tour of your kitchen pantry" (including you freezer) and write down the major ingredients you have. Then use that to create a meal plan for the week. I love the challenge of trying to avoid shopping for anything but perishable necessities, and usually end up creating some really tasty recipes this way.
Use the bulk aisle in surprising ways. In addition to saving money by buying large quantities in the bulk aisle, you can also save by buying small quantities of odd items — things like hazelnuts, which you can toast and sprinkle over green beans or a simple salad but which are pricey if you buy an entire bag.
Keep flavor enhancers in the freezer. This is a great way to store "expensive" items like pancetta, grated Parmesan, and even leftover wine — all of which are great to have on hand and keep much longer in the freezer. I would incorporate another strategy here: Never throw away a source of free flavor. If you don't already, save the rinds of your cheese for flavoring soups and sauces, mushroom (and other vegetable) stems for making stock, and even already-squeezed lemons for zesting at another time.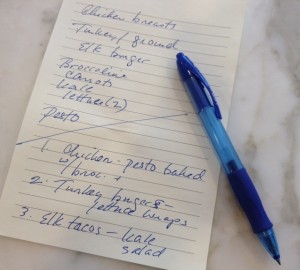 One a week quickly tally your perishables and create a five-minute menu plan. I do this all the time; here's a recent list I just found on my desk. It makes end-of-the-week meal planning easy (and painless) because the inventory is what drives the menu — in fact, there's no actual planning or shopping required. Sometimes when I do this, all I have a bits and pieces lurking in the fridge, and those can be made into what we call "kitchen sink" salads, soups, or pasta dishes. For example, I recently had a half an onion, some leftover cooked chicken, a couple somewhat squishy tomatoes, a bunch of spinach, and a container of cooked rice from Chinese takeout — and it ended up becoming a delicious tomato-soup-with-spinach-and-chicken thing that I served over the rice. It fed the whole family, and it was a hit.
So, those are five of the 10 strategies in the book, but you get the idea.
As for the broccoli recipe, have I mentioned that I have a bit of a roasted-vegetable addiction? I don't know how it goes in your house, but when I steam or boil the broccoli, we usually have enough left over for somebody's lunch the next day, but when I roast it, it's gone faster than a bowl of chips & salsa at the Mexican breakfast place. The key difference in this roasted broccoli is the stems, which are not chopped off and tossed in the compost. Seeing these broccoli trees made me long for all the uneaten stalks in my past. Not only are they sweet and tender and fun to hold onto, but the stems almost double the quantity of food you get per head of broccoli.
Roasted Broccoli with Parmesan Cheese (from Ten Dollar Dinners by Melissa D'Arabian)
Ingredients
1 head broccoli
2 tbs. olive oil
1/2 tsp. kosher salt
1/4 tsp. black pepper
2 tbs. grated Parmesan cheese
Place a rimmed baking sheet on the oven's middle rack and preheat the oven to 400 degrees. Place the broccoli on a cutting board. Use a vegetable peeler to peel away the tough outer skin of the stalk, then halve the broccoli lengthwise. Slice each piece into three or four long "trees," keeping the florets attached to the stalk. Arrange the broccoli in a single layer, cut side down, in the heated baking dish and drizzle with the olive oil. Season with salt & pepper and place in the oven to roast until the sides start to brown, about 10 mins. Remove the pan from the oven and turn the broccoli over (I used tongs). Sprinkle with the grated cheese and cook until the cheese melts, about 5 mins. Transfer to a plate and serve hot.