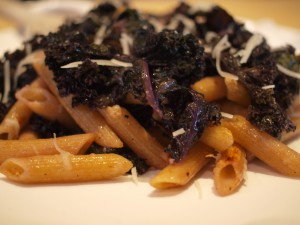 I hope everyone had a wonderful Thanksgiving. And I really hope nobody spent a minute feeling guilty about eating too much and feeling like crap the next day. I would argue that you didn't really get into the spirit of the holiday if you managed to avoid feeling at least a little full, hungover, or both. And if you, like me, spent the weekend eating Apple Butter Custard pie for breakfast and movie popcorn for lunch (Hugo was an almost perfect movie in my opinion, by the way), don't feel bad about that either. The pie — and the stuffing and the gravy — will be gone soon enough.
That all being said, I always feel like the Monday after Thanksgiving is a good day to regroup a little food- and fitness-wise (oh, and work-wise, too). So, as soon as I got the (very, very crabby) kids out the door, I wrote a very long to-do list, attempted one of my husband's Insanity DVDs (all I can say is, good lord!), made a meal plan for the week (turkey soup is in the rotation of course, but we probably won't do another round of turkey pot pie or turkey-mashed potato shepherd's pie), brewed some Good Earth tea to curb my lingering sugar cravings, and made a large batch of my favorite sauteed pasta and kale to eat for lunch all week.
I've held off writing about this recipe for a while because, as much as I love it, it's really not much of a recipe. But there's something about the combination of pasta sauteed until it's chewy and almost crispy tossed with heaps of twice-cooked (and therefore very mild) kale that is very satisfying and delicious but still seems (relatively) virtuous. I'm not sure I could pull off serving it to the family for dinner, but that's okay. This one's for me.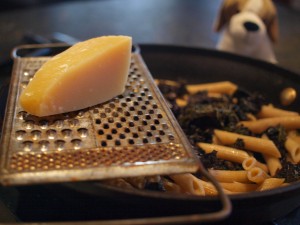 Sauteed Pasta & Kale
Ingredients
1 package organic whole wheat pasta (like penne or rotini)
1 large bunch organic kale
Extra virgin olive oil
Kosher salt & pepper
Crushed red pepper
Parmesan cheese (or any hard cheese such as Aged Gouda, Pecorino Romano, even Gruyere)
Cook the pasta in boiling, lightly salted water until al dente. Drain and set aside. Remove the large, tough stems from the kale leaves (I stack a few leaves and cut the stems out, but you can also tear them) and roughly chop the kale. It's easier to wash the kale once it's been cut up, so rinse it thoroughly now and dry in a salad spinner.
Heat 1 tbs. olive oil and about 1/4 cup of water in a large skillet. Saute the kale until soft but not completely cooked. Set aside. When you're ready to make lunch, heat another tbs. of oil in the skillet and add a portion of cooked pasta and cooked kale to the pan. Saute on medium-high heat until kale is very well done and pasta begins to get crunchy and brown in spots. Season with salt & pepper and a pinch of red pepper if desired. Just so you don't feel deprived, grate a little cheese over the top before serving.
This makes about 4-5 lunch-sized servings.