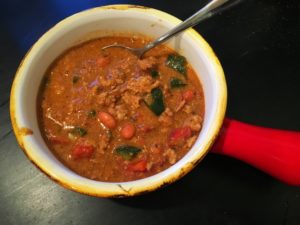 It's snowing here in Denver toady. Yep, there are pretty pink and white flowers on the trees, soccer season is here, and I just got back from Mexico and have a slight tan. But it's April and that's what it does.
While we were on our trip last week I planned to come home and bust out the seat cushions for our patio chairs and started getting pretty excited about cooking and eating outside. Whoa nelly. That's clearly not in the forecast for the foreseeable future. Which I guess is fine. We need the moisture, blah blah blah. My ski bag is still sitting by the back door; maybe now I'll be rewarded for never putting it away.
Another upside of the snow is it gives me a chance to post this tasty chili recipe. I know this seems like something you'd eat during a football game or in a ski condo, but it actually makes a great weeknight family dinner, whatever the weather. It's easy to pull together and then just gets better and better as it sits on the stove waiting for everyone to get home from soccer/tennis/track practice or whatever other outdoor activity you had planned (but is now canceled).
Don't let this recipe's lack of oil, fried chips, flour, dairy, or red meat deter you—it's really delicious and satisfying despite being almost absurdly healthy. You actually thicken it by putting a scoop or two of it in the blender, which sounds kind of gross but I promise works great.
Real Deal Turkey Chili
Ingredients
1 large onion, diced
2 lbs. ground turkey
1 poblano pepper, seeded and diced
1 red bell pepper, seeded and diced
3 garlic cloves, minced
1 jalapeno pepper, seeded and finely chopped (optional but not really)
1 tbs. dried oregano
1 bay leaf
3 tbs. chili powder (I love this)
2 tsp. dried cumin
1 15-oz. can diced tomatoes (I use Muir Glen Organic Fire Roasted)
2 cups chicken broth
2 15-oz. cans pinto beans (do not drain)
Splash vinegar (I use apple cider vinegar)
Salt & pepper to taste
Chopped cilantro for garnish
Put the onions and turkey in a large pot over medium-high heat. Break up the turkey and cook until turkey is cooked through and onions are soft and slightly browned. Add the peppers, garlic, spices, and bay leaf and stir to combine; cook for 5 minutes. Add the tomatoes and chicken broth and bring to a simmer. Cook for 10 minutes, then add the (undrained) beans. Now comes the nifty trick: Scoop 1-2 cups of the chili and put in the blender. Pulse a few times (make sure the lid is on tight) until blended. I know it looks a little like baby food, but I promise it will make the chili thick and delicious once you thoroughly stir it back into the pot, which you should do as soon as you blend it. Add a splash (1 tsp. or so) of vinegar (or squeeze of lime) and salt & pepper to taste. The chili can continue to cook on low heat until ready to serve. Serve with cilantro (and, if you're like my daughter, cheese and tortilla chips) on top.
Stay warm!