T.S. Eliot said, "April is the cruelest month." I am going to have to disagree and go with March.
In March I am ready for spring, but spring is not on the same page. Sure, it's nice today, but don't dig out those flip-flops yet because it's supposed to snow this weekend. And so it goes — just enough nice weather to tease us and make us dress ridiculously.
Since there's plenty of soup weather still to come — and because it's Lent and I get asked this all the time and it's one of the most useful recipes I know — I wanted to share how to make vegetable stock. As I'm sure you all know, soup made with homemade stock is far, far better than soup made with canned or boxed broth or bullion cubes. Homemade stock is also great for poaching fish and chicken, thinning sauces, and adding flavor to vegetable dishes. I like it because it's always a little bit different, so its flavor is unique and seasonal based on what you put in it. And keep in min, vegetable stock can easily be substituted for chicken broth to make vegetarian versions of many soup recipes.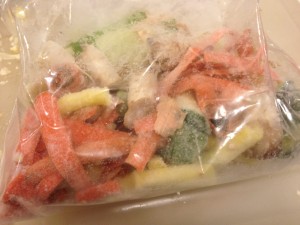 I also truly love the idea of making something good from things you might otherwise throw into the garbage or compost. What I do is get a big (gallon-sized) freezer bag and start filling it up with washed vegetable scraps, such zucchini stems, carrot peels, and broccoli stalks. I keep the bag in the freezer and gradually fill it up as a make dinner. Once it's full, it's time to make stock. Did I mention it's really, really easy?
So, this weekend when your daughter's soccer game is canceled due to yet another blizzard, now you'll have something to do with all that extra time!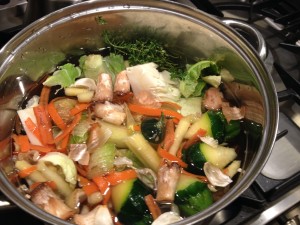 Homemade Vegetable Stock
Ingredients
2-3 lbs. vegetable scraps and pieces
1/2 onion, cut in half or quartered
1-2 garlic cloves, peeled
A few sprigs of fresh herbs (you can get fancy and make a bouquet garni by tying them together with a piece of kitchen string or just dump them in loose)
2 quarts cold water
Put the vegetable scraps in a large stock pot along with the onions, garlic, and herbs. Add cold water and put on a burner on medium-high heat. Bring to a boil, then reduce heat to a low boil/fast simmer and leave for 2-3 hours. Strain through a colander into a large bowl. Then strain again into a bowl or container with a lid using a fine-mesh strainer. Store in the fridge (up to 2 weeks or so) or label and freeze—who knows, maybe March will go out with a lamb for real this year and you can save the stock for soup in the fall.
Now, you're ready to make this! Or this!