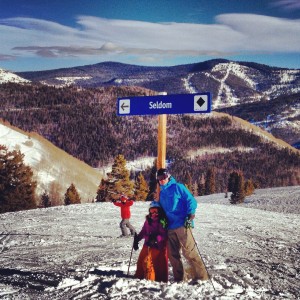 This is our family's routine during the winter: Every Friday my husband and I pack up the car, pick up the kids from school, and hit the road for the mountains — usually in a mild panic about being on the highway by a certain time in order to beat the traffic. And then every Sunday we drive home — again in a panic to avoid the traffic — haul everything out of the car, and, exhausted, leave the luggage in a huge pile on the basement floor. Sometimes I even manage to unpack the bags and wash the ski clothes before the next Friday. Did I mention we do this every weekend from January to March?
Anyone who lives in Colorado and skis on the weekends knows the drill. And it really is a drill. It feels like we're mounting a military operation (you may have already seen this hilarious video about Hitler's assault on Vail, but if not take a look; it's so true it's frightening). But we all love to ski, which makes the seemingly absurd weekend program (mostly) worth it. You can read more about our family's ski-related adventures on Vail's Epic Moms website(did you know I'm an Epic Mom? Cool, huh? Actually, I think all moms are "epic," but that's what they call us).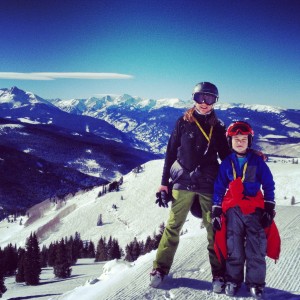 So yeah it's worth it, and we're creating memories and all that. But being in the beautiful mountains every weekend sure takes a toll on family dinner. Usually I enjoy spending a Sunday afternoon poring over cookbooks, planning meals, and even grocery shopping, but that's just not happening much these days.
So, instead of throwing in the (dinner) towel, I've made a weekly meal schedule that essentially doesn't change. Here it is: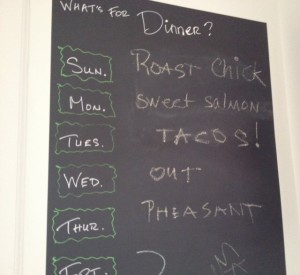 Sunday – Roast chicken and vegetables (Bird goes in roasting pan along with any vegetables in fridge, and roasts for about 1 hour.)
Monday – Fish, assuming I make it to the market (This is usually grilled halibut or salmon with broccoli and a salad , sometimes my daughter's favorite Bacon-Wrapped Cod.)
Tuesday – Taco Tuesday (I'll brown a pound of ground beef or turkey, or season the leftover chicken with taco seasonings, saute some sliced veggies such as onions, peppers, and zucchini, and serve with warm corn tortillas, salsa, etc.)
Wednesday – Skating night (It's $5 burger night at a place right near the ice rink, so that's usually what we have.)
Thursday – Open-for-requests night (Okay, so one night a week we change it up.)
Snooze, right? I know it sounds kinda boring, but so far nobody around here seems to notice. And you know what? It's better to eat the same things every week (assuming those things are really good, which these usually are) than to bail on the whole dinner thing. Speaking of really good, last week on Thursday I made Ratatouille Sliders, based on a recipe from the Smitten Kitchen Cookbook (which I love, by the way). It was one of those recipes I just had to try because I couldn't believe it would be good. But it was crazy-delicious. It didn't even need cheese (weird, I know). It's also kind of summery and made me think of long, warm weekends and going barefoot instead of wearing ski boots — which right about now sounds kind of nice.
Ratatouille Sliders (Adapted from the Smitten Kitchen Cookbook by Deb Perelman)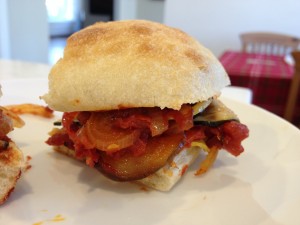 Ingredients
1 long thin zucchini
1 long thin yellow squash
1 long thin eggplant (or any small eggplant)
2 thin red bell peppers
1/2 yellow onion, thinly sliced
1 cup tomato puree (such as Pomi or Muir Glen brand)
1 clove garlic, minced
2 tbs. olive oil
1 1/2 tsp. salt
Pinch red pepper flakes
3 sprigs fresh thyme, chopped
1 long, thin French baguette or mini slider rolls
4 oz. soft goat cheese (optional; I didn't use this)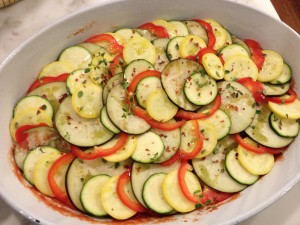 Preheat the oven to 350 degrees. Using a mandoline or very sharp knife, thinly slice the vegetables into disks. Combine the onions, tomato puree, garlic, 1 tbs. olive oil, red pepper flakes, and pinch of salt in a large baking dish, spread to cover the bottom of the dish. Arrange the vegetable slices in the bottom of the dish so they overlap; cut the pepper rings and roll them slightly to make them fit. Drizzle with remaining tbs. olive oil and sprinkle with thyme. Cover with foil and bake for 45 mins. Turn up the oven to 425, remove foil, and bake another 10-15 mins. Meanwhile, toast bread in the oven for 5 mins. Spread one side of the bread with cheese if using. To assemble sandwiches, slide a spatula under one section of the vegetables and slide it onto the bottom half of the toasted bread.