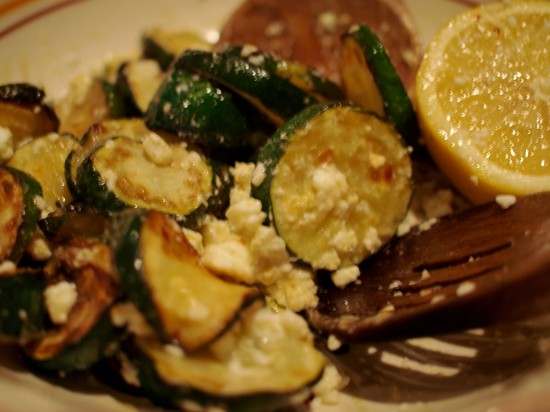 In my house, zucchini isn't officially "disgusting," but it isn't going to win any popularity contests either. I happen to love the stuff, but even I have to admit it needs some dolling up. And since it's so plentiful this time of year, I seem to devote an inordinate amount of time to thinking up ways to make zucchini more delectable. This dish is one of the best — and easiest — I've come up with so far.
If I were serving lunch to a couple girlfriends, this — along with a glass of white wine — would be a perfect light meal. But for a family dinner, it's probably more workable as a side. I don't know about you, but I tend to make the same vegetable side dishes over and over (broccoli with lemon and Parmesan, roasted eggplant, green beans with shallots, etc.), so it's nice to be able to add a new one to the repertoire every now and then.
This is delicious served with chicken. I also served it with meatball sandwiches last night and no one complained.

Zucchini with Feta and Lemon
Ingredients
2 large zucchini (zucchini is cheap, splurge on organic)
1-2 tbs. olive oil
2 tbs. crumbled feta cheese (more or less)
1/2 lemon
Salt & pepper
Heat the olive oil in a large skillet over medium heat. Slice the zucchini into 1/4-inch-thick disks and add to pan in a single layer. Sprinkle lightly with salt and saute until slightly browned on one side (try not to crowd them too much; you might need to cook the squash in two batches). Flip slices over and slightly brown the other side. When zucchini is cooked, transfer to a bowl and toss with feta and juice of 1/2 lemon (try squeezing a little lemon first, then adding gradually to taste). Grind some black pepper over the top. Serves four people, more if they're slightly zucchini-averse and fewer if they're people like me.