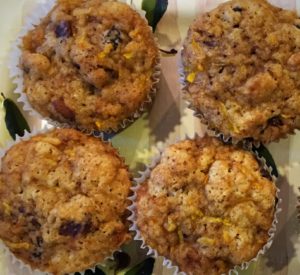 These muffins are fantastic. And I don't mean "fantastic for zucchini muffins." I mean plain fantastic. They are delicious and filling and perfect for breakfast, lunch, and after-school snacks. They're also a great way to use any too-gigantic-to-spiralize zucchini you find yourself with this time of year.
I know, who am I to tell people what to bake? It's no secret that I don't bake much — recipes that require measuring a "precise 1/8 teaspoon" or, you know, actually following the directions, tend to throw me. I use my oven almost every day of my life, but rarely to actually bake. So it's understandable that this blog wouldn't be the first place to look for a great muffin recipe. I think in the entire time I've been writing this blog, I've done exactly two baking posts — and one of them was written by my sister.
That's exactly why you should trust me on this.
Because I'm obsessed with real food, I tend to think that if you're going to have baked goods, have ones made from recognizable ingredients like fresh organic eggs, real butter, and unbleached flour — without artificial chemical preservatives and trans fats. And if I'm going to take the time to read a recipe all the way through, get myself covered in flour, and actually measure something precisely, you can bet whatever I'm baking will be damn good. In other words, when I bake, I do not mess around.
It's also a safe bet that, try as I might to follow the directions to the letter, there's a high chance I will botch some step in in the recipe. But in this case — I forgot to add the baking powder — my botching actually improved things. These muffins are a little denser than normal, but I think they're better for it — and much more portable. I also substituted olive oil for canola oil (which I didn't have); I'm sure canola oil works fine, too. Since I can never resist tweaking recipes, I doubled the nuts (I love nutty muffins) and threw in some chocolate, which makes everything better, right?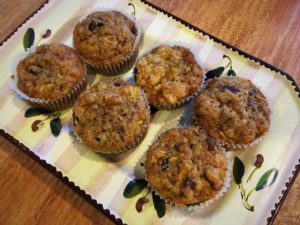 Zucchini Muffins with Nuts & Chocolate
Ingredients
1 1/2 cup all-purpose flour
3/4 cup sugar
1/2 tsp baking soda
1/2 tsp salt
1/2 tsp ground cinnamon
2 large eggs
1/2 cup olive oil
2 cups finely shredded, unpeeled zucchini (If you have a food processor, use it; if not, a cheese grater works fine.)
3/4 cup chopped walnuts
3/4 cup chopped pecans
3/4 cup dark chocolate pieces (I recommend 365 brand dark chocolate chunks)
Preheat the oven to 350 degrees. Combine the first five ingredients in a large bowl. Whisk together the eggs and oil; stir into the dry ingredients just until moistened. Fold in the zucchini, walnuts, pecans, and chocolate. Coat muffin pan cups with cooking spray or use paper liners; fill three-fourths full with batter. Bake for 25 mins. or until a toothpick comes out clean (start checking after about 22 mins.). Cool for 5 mins. before removing from pan to a wire rack. Makes 12-18 muffins, depending on size (I have two different sized muffin pans).